So I've missed the last couple days...
Let me make 3 things right now!
3 THINGS I HOPE TO DO WHILE I'M STILL ALIVE!
Some people call these kinds of things Bucket List Items. I don't care for that term, but have not yet come up with anything any better.
To Do's?
1. I want to slide down a firefighter's pole in a firehouse!
(pic from Google image search)
When I was younger and in the phase of designing dream houses, I always included a fire pole to get between floors. I got to go down a similar pole on one of the local playgrounds, but that was out in the open. I want to experience sliding down a pole to get from one room to another.
Hopefully some day.
2. I want to go down this waterslide...
(pic from Google Image search)
... that goes through a Shark Tank!
It's at the Golden Nugget Hotel in Las Vegas! It could happen! It sounds amazing.
That's 2 items that both involve sliding. Weird.
3. I want a picture with Grover!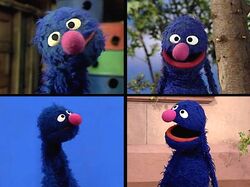 (pic from Google Image search)
And I want it to be with the real Grover Muppet! I want to either be hugging him or have his arm around me! I drew a comic of this once. It's somewhere in the
Ponder and Enlightening archives!
HOW CAN I MAKE THIS HAPPEN? INTERNET, PLEASE HELP ME!
There are other To Do's, but those all involve making money off of my creativity and other things that are less likely than these three.
Thing 2:
Grover bad MSPaint Art!
Thing 3:
House Hold (a poem)
Window Pane
Window Pane
you are clearly
visible.
Though I can
see right through you.
Coffee Table
Coffee Table
You have never
had coffee
on you.
Book Shelf
Book Shelf
full of knicks
and knacks.
Light Bulb
Light Bulb
You blossom
full-bloom
at the flick of
a switch.
Then wilt
at another.
4 Walls
a floor
1 ceiling
adore.