I like to make music.
Write and perform.
And since I'm a bit of a strange person I'd really like to put some of that music I make onto some strange music mediums.
Today's Thing-a-Day Thing is a list of 3 different types of music mediums on which I'd like to put some music and sell it or give it to other strange people who like my music!
1. Wire Recordings!
I just found out about this recording medium from an episode of Bones. I don't know much about it yet, and I don't think it would be the best sound quality, but I'd like to give it a try.
For Novelty!
2. Edison Cylinder Phonograph!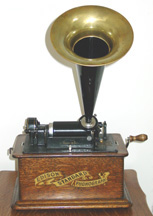 Again, not the best sound quality, but still...
For HISTORY!
3. Fisher Price Records!
Remember these?
I would love to make a least one 2-sided record that I could play on one of these.
This is the most likely of the 3.
There are ways to make these records yourself!
Anybody wanna help me make this song into a record:
For NOSTALGIA!
Or you could get me one step closer to world-fame by
buying some of my music for yourself and others.